This is the post I am submitting to a
very cool
shagfest bloggathon
.
I had originally planned to write about a little something from my own experiences.
The truth is, I started typing and I was surprised at what emerged when I read it. I did what I did driven by a very pure hatred.
Don't get me wrong: I'm not being prudish. What I read was not your usual sensual delight with a bit of rough thrown in.
It was a bit of a revelation for me. I wasn't even prepared to write about it, much less publish it on my blog. It really blew me away and I am sort of dealing with it.
BUT on a lighter note, I want to write about a woman who casts a bit of a spell on men.
A woman whom I would swap lives with in a split second.
John Taylor
, the bass player in
Duran Duran
was the object of my obsession up to when I was 15. I had posters of him all over my bedroom and had extremely dirty dreams about him.
I was pretty much
devastated
after he started dating someone just a few years older than me. Someone who was the same age as the millions of screaming girls who adored him. A few years later, she got pregnant at 18 and he married her the following year. The woman who shattered my teenage dreams: Amanda de Cadenet.
"HOW could he? Why her? Whyyyyyyy?" I whined.
"Oh my GOD, get a life!!!!" said my so called Durannie-partner-in-crime.
Bah. Some friend.
So, who was this woman, anyway?
I had a friend, "L" whose parents sent her to
Benenden College
, the same posh London school that Amanda de Cadenet (who also had rich parents) attended. I phoned "L" up when I was back in KL for 3 weeks for my winter break and she was back in town for the summer holidays to get the goss. From what I could tell, Amanda de Cadenet sounded just like us. Sneaking out of boarding school after curfew to go clubbing. She dated
Nathan Moore
, the lead singer from
Brother Beyond
when she was just 14.
She was also one of the hosts for BBC's youth music program "The Word".
OK. I eventually got over it all. Time heals all.
I forgot about all that until last year, when Duran Duran made their comeback and
I went to their gigs
. I started to read whatever I could get my hands on to catch up on the news.
Yes. I know. That's pretty lame.
I found an
Amanda de Cadenet fan website
and it inspired me to write this.
Amanda became an actress, she roles in a few moderately successful films. One of those films,
Four Rooms
remains my favourite to this day.
She was in the news again when she supposedly had an affair with
Courtney Love
. This was a short time after her husband, the legendary Kurt Cobain of Nirvana shot himself.
I don't know if there was any truth to the rumour or not, but wow. I can see why another woman would find Courtney Love attractive. She appeals to the grrrrl power in all of us- that's incredibly empowering.
Then, as all rock stars do, Amanda de Cadenet and John Taylor announced their separation.
What did she do then? She dated Keanu Reeves, with whom she has reportedly had an on-off affair for a few years.
Oh my God, I thought as I read on and googled for more late into the night, "This woman has got some sort of powerful mojo happening"......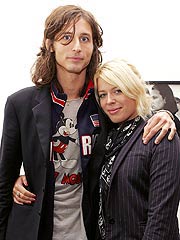 She has apparently "reinvented" herself as a
photographer
in the last few years.
AND to top it all off, she's now got Nick Valensi, the guitarist from
The Strokes
.
I LOVE The Strokes. My favourite band of the moment.
I am SO jealous.Yes, even at MY age!