Watched the delayed telecast on
Channel 7
with my husband just now.
As soon as the 15 semi finalists were announced, I named my favourites to my husband who went
hmmmph
at each one of my favourites.
1. Miss Norway. Half Thai. Not really what you would call beautiful but what can I say- it's asian pride. She was graceful, friendly and confident.
2. Miss Indonesia. So classically beautiful, what amazing bone structure! She had a very classy "you can't touch me" kind of look. She looks like she could be an international model (think Paris), not just those B-grade models who only manage to make it in their own country.
3. Miss Latvia. STUNNING. What a barbie doll. Unbelieveably
Claudia Schiffer
-esque.
And Miss Malaysia.......geeez
I have no words.
WHY do we keep picking these types of girls?
The chick needs to get her pale ass outdoors and get herself a healthy tan.
She also needs to stop jumping onto the straightened-hair bandwagon.
OK, my gripe about Miss Malaysia isn't just purely skin deep.
I'm sure she's probably a very smart girl, but it didn't really shine through.
Very very ordinary.
And Miss China looked like she belonged in a karaoke bar as one of those "Guest Relations Officers".......
We've had much better looking girls as Miss Malaysia.
Andrea Veronica Fonseka (2004) was a hot babe. She really copped a lot of shit from Malaysians who claimed she was fat. OK, she was a bit bigger than your average Miss Malaysia, but damn, she is SEXY.
And 5'11.
And she was interesting, athletic and had a lot of personality.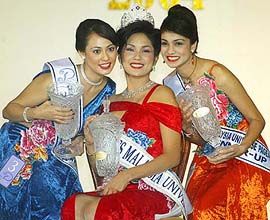 Imagine if the insipid-looking girl to her RIGHT had won instead!
A few of our ex Miss Malaysia's in this pic below.
Elaine Daly, Wong Sze Zen, Jamie Gooi, Tan Su Wei & Lina Teoh.
Lina Teoh is smart, articulate AND beautiful. You can see her confidence and maturity.
Tan Su Wei is quite quirky and interesting... and you can SEE her personality.
Elaine Daly is also outgoing and smart. Lots of sass in this chick!
I have no idea who Jamie Gooi is but she looks alright, too.
Wong Sze Zen. Someone tell me WTF she is doing in the same frame as the rest of these women?
If the winners in 2005 and 2004 are anything to go by, I'd say tanned, athletic women with healthy bodies is the new beauty ideal. Real girls. An asian version?
Hmmmmmmm.
Miss Singapore 2005, Cheryl Tay?
Miss Japan 2005, Yukari Kuzuya? All 6ft (with no heels!) of her?
She's got personality plus-plus too, I reckon.
Check out her outfit for the evening gown! Coolness.
Say NO procelain princesses or barbie dolls!!!!
OK. Better stop the pic posting frenzy. Beginning to look like a bloke's page.